IT Consulting in Middle Tennessee
Already have an IT existing team? Maximize your resources by hiring Adabra to supplement your team for large IT projects. We're an agile company located in Middle Tennessee, and we pivot easily to offer flexibility in how we contribute on client projects.
Adabra frequently offers hourly or per project consulting. Check out the infographic to see the differences.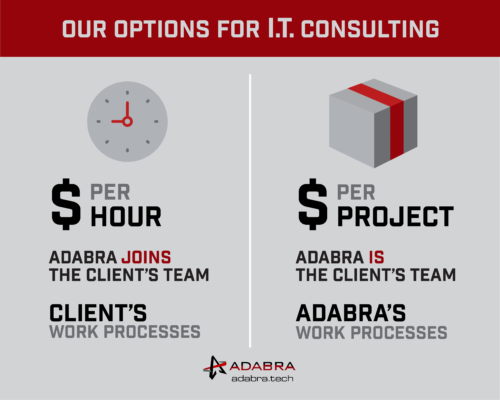 Hourly IT Consulting
If you have a long IT agenda and need immediate programmers to address the items, Adabra can help. If your office is in the Murfreesboro or greater Nashville area, we're happy to schedule a face-to-face meeting. Together we will discuss the project plan and timeline and negotiate an hourly rate per programmer or IT engineer. Then we simply work for you by the hour with a basic schedule drafted in advance. In this hourly work plan, we default to your processes for IT project planning and quality assurance.
Project IT Consulting
If your company has an idea or IT feature to build, Adabra will collaborate with you as a partner for both local companies and clients across the U.S. In this type of contract, we typically guide in planning and then we execute the build. We follow up by working with our client through the QA period. Many of our projects include time to write unit and integration tests that basically help vet the code before the QA period.
Our databases are built to grow with your business.